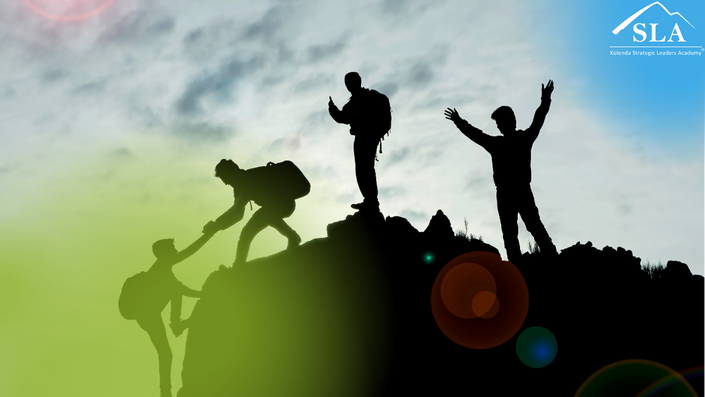 Becoming a WHY? Leader (TM)
The 6 Habits that Inspire People to Contribute their Best to your Team's Success
Watch Promo
Becoming a WHY? Leader (TM) - 6 Habits that Inspire People to Contribute their Best
This course is for leaders who want to get great results the right way.
No one ever learned to lead solely by reading a book or watching a TikTok video. You need to apply what you learn in the arena and get clear unfiltered advice. When you do this, you gain accountability and build new habits that get results.
This program is by-application-only. Apply here: https://callSLA.as.me/Chris
This course focuses on DOING. You get clear action steps to implement the 6 Habits of Becoming a WHY? Leader (TM) so that you inspire people to contribute their best to your team's success.
Leaders come in three broad types. WHAT leaders manage their teams to achieve what the boss wants. HOW leaders provide the answers and plans for WHAT leaders to execute. WHY? Leaders (TM) provide guidance and purpose so that their subordinates can take initiative, develop ideas, and take the organization to new heights.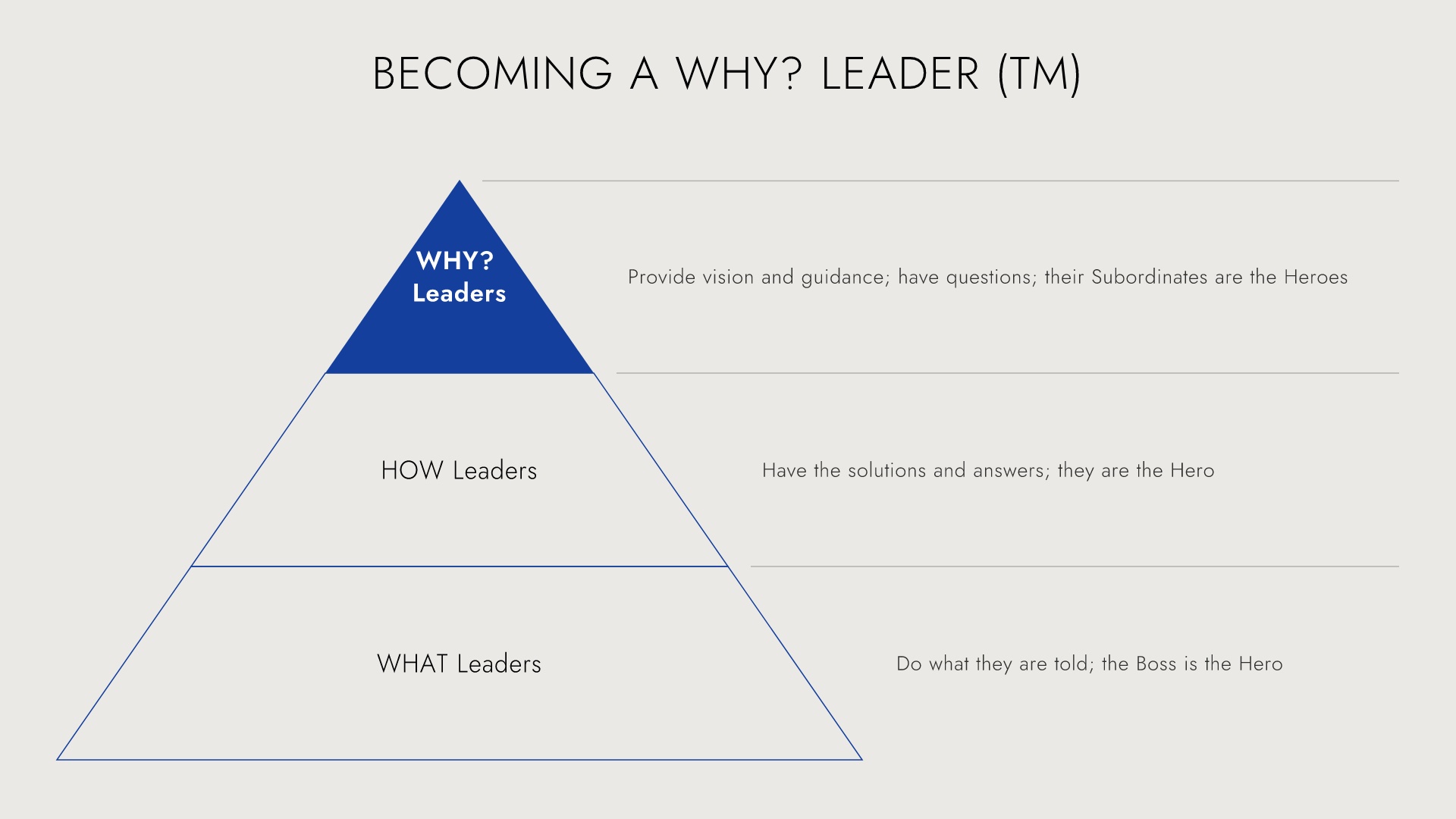 HOW leaders erect personality cults that showcase themselve as the man-with-the-plan, the hero with all the answers. This approach also means that they have a tough time adapting to new circumstances or changing their policies in the face of new evidence. They tend to surround themselves with lackeys and goofballs because competence and independent thinking threaten the HOW leader's hold on power.
The inherent contradiction to HOW leadership is that by centralizing decisions, inhaling their own gas, and preventing the rise of others, they limit the flow of information, ideas, and initiative vital for learning and growth.

Where do the new ideas arise in your business? When is the last time one of your subordinates challenged your thinking or proposed a new approach? When you talk about your business to the press or a colleague, do you show off the achievements of your employees or humble-brag about how we (I) did it?
For CEOs and owners, Becoming a WHY? Leader (TM) is the alternative to the self-inflicted limits of HOW leadership. If you want true bench strength and an Inspiring Culture (TM) to take your business to new heights, you need your subordinates to become WHY? Leaders, too.
This program is by-application-only. Apply here: https://callSLA.as.me/Chris

Do the Math
Imagine the impact if you could be just ten percent more productive and inspire your employees to do the same.
Most leaders spend fifty percent or more of their time ensuring their employees do their jobs, dealing with complaints and conflict, rework, and other unproductive activity.
If you make $100k per year, that means $50k gets consumed on something other than being productive.
If you could reprogram just ten percent of that time for actions that grow your business, you increase your productive time by $5,000 plus the added revenues.
Do the same for your direct reports and you are well into five-figure impact.
Retain just one more employee and you've saved the replacement cost for that person, somewhere between 50 - 200% of the position's annual salary.
This course helps you do all of that and more. It's your classic low-cost, high-payoff investment.
Here are some of the outcomes you can expect:

Lead as the best version of yourself
Coach your employees to contribute as their best selves

Engage and retain your top talent

Boost performance and accountability without feeling like a jerk

Gain buy-in so that your employees do what's right - the right way - without you having to watch

Build your arsenal of leadership experiences so you can have better tools at your disposal to solve challenging problems
Here are the six habits you need to build to Become a WHY? Leader (TM):
1. Lead as your best self so that you get great results without burning out
Identify your servant leader archetype: Pioneer, Reconciler, Operator, or Maverick (PROM).
Build healthy habits for your archetype so you lead as your best self.
Prune away average habits that hold you back so that you avoid leading below your potential.
Build the right team around you by putting other archetypes in roles that match their natural strengths (aka Superpowers).
2. Improve your credibility and impact by following the three core principles of trustworthiness, respect, and stewardship
Build trust so that you safeguard your credibility and boost your influence with your boss, peers, partners, and employees.
Treat people with respect so that you earn it yourself, boost the impact of diversity and inclusion, and motivate people to contribute their best.
Coach your employees to contribute as their best and most authentic selves so that you boost their productivity 2X- 3X and avoid pushing them away with the mini-me syndrome.
Develop your employees and your systems so that you leave your team better and leave a legacy of excellence that lasts beyond your tenure.
3. Practice empathy so that you can see yourself and your team through the eyes of others and stay ahead of the competition, avoid blindsides, and bring out the best in each teammate.
Build your empathy skills with simple strategies that work NOW
Develop your client-centric empathy map so that you can anticipate and meet their needs/
Create your boss-centric empathy map so that you can boost your influence without coming across as whining, badgering, or attention-seeking.
Build your employee-centric empathy map so that you can see yourself through the eyes of your team and treat each person as they wish to be treated.
4. Take responsibility so that you can promote innovation and sensible risk-taking and hold people accountable for results and values ... without feeling like a jerk.
Boost innovation and sensible risk-taking.
Motivate people to learn from their experiences without finger-pointing and blame games.
Gain clarity in how to give guidance and instructions so that people know precisely what you expect and why.
Get great results, on time, without browbeating or micromanaging.
5. Connect the why so that everyone knows exactly how their work contributes to success. Once this happens, your team will do what's right, the right way, without you having to watch.

Build commitment so that your employees do what's right without constant supervision.
Inspire initiative and avoid micromanaging by using the eyes-on, hands-off approach.
Develop clear employee mission statements so that each person feels clear ownership in what they do and how their efforts contribute to success.
6. Multiply your experiences so that you make sound decisions and avoid expensive mistakes.

Get the best from coaches and mentors.
Create action steps to gain best practices from other great leaders and teams.
Make new mistakes instead of repeating the ones everyone else is making.
There's no mind-numbing theory here. You get practical action steps that inspire people to contribute their best to your team's success.
Your Instructor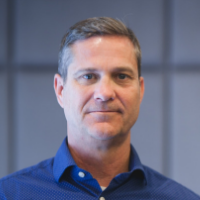 Founder of the Strategic Leaders Academy, Chris works with Small Business Founders and CEOs who want to lead as your best self, build a high performing team, and execute a winning strategy. Chris operates at the intersection of Leadership, Culture, and Strategy to help your business grow sustainably. You get the right support to do the right things the right way and avoid blind spots. His clients have grown by over $26 million and counting.
Chris is a West Point graduate, internationally renowned combat leader, retired Army Colonel, business leader, and author of Leadership: The Warrior's Art -- which has sold over 50,000 copies. He has appeared on CNN, MSNBC, BBC, NPR, SKY News, The Wall Street Journal, The Economist, The New York Times, and The Washington Post. His battlefield leadership has been featured in several books, including Jake Tapper's bestseller The Outpost.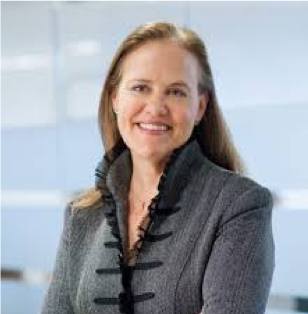 SLA's leader archetypes gave us a framework to discuss the ways that people lead differently and how we celebrate that diversity as we build commitment to a common culture. This is already benefiting our retention, engagement and morale.
MICHELE FLOURNOY, CEO, WestExec Advisors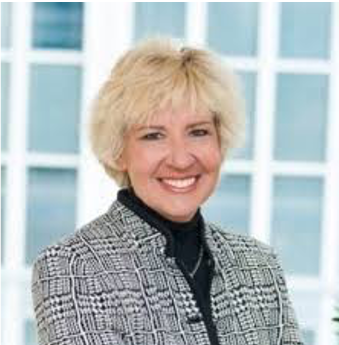 The leader archetypes have given me a framework to think about leader diversity and what natural inclinations people bring to the table. It's also helped me communicate more effectively and develop action plans with my team and our clients.
Karen Seitz, Founder and Managing Director, Fusion Partners Global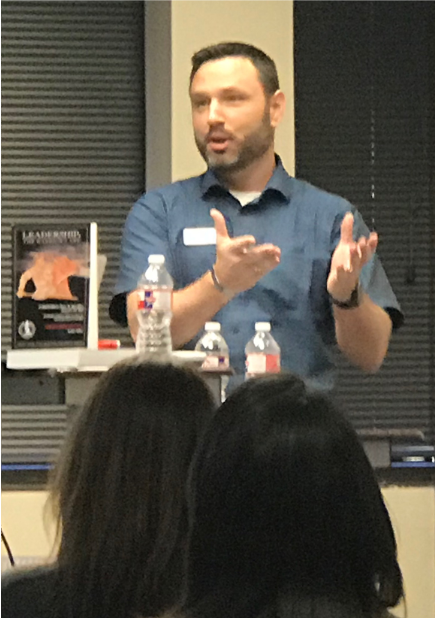 We are seeing at least a 50% improvement in the levels of ownership and engagement and our conversion numbers have increased by 15%, bringing more revenue into the company.
Stefan McFarland, Vice President, Aspire
Frequently Asked Questions
When does the course start and finish?
The course starts now and never ends! It is a completely self-paced online course - you decide when you start and when you finish.
How long do I have access to the course?
How does lifetime access sound? After enrolling, you have unlimited access to this course for as long as you like - across any and all devices you own.
This course is closed for enrollment.